Claim Winning
Bus Injury Attorney
BUS INJURY ATTORNEY: Bus accidents often result in catastrophic injuries that require emergency care. Although there are countless factors that lead to burn injuries, the majority are due to negligent and reckless behaviors. Bus injuries are painful and can leave long-lasting physical and psychological scars. Call Injury Law Now!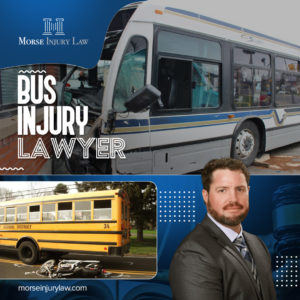 We are your San Diego Bus Injury Lawyers; we understand that a Bus Injury can be one of the most traumatic experiences in one's life. In addition to the stress and anxiety associated with such a devastating event, individuals are often left confused as to how to pay for their medical bills, and how to support themselves and their families during their recovery. Bus accidents often result in catastrophic injuries that require emergency care. Although there are countless factors that lead to a bus accident, the majority are due to negligent and reckless behaviors and inattention.
When you step onto a city transit bus or put your child onto a school bus, you entrust the bus driver, the bus company and a host of others with you and your loved ones' safety and security. An accident is among the last things you expect. Yet, accidents happen.
Depending on the nature of your or your family member's injuries due to a bus accident, your bus accident lawyer may identify possible claims for:

Do I have a case?
Find out, it's free
Free Consultation
With Richard Morse

★★★★★
Five Star Review with Google
Map Location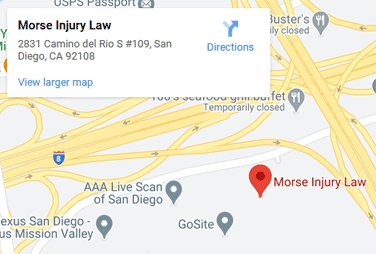 Morse Injury Law
  2831 Camino del Rio S. #109
  San Diego, CA. 82108
  Phone: +1 (619) 684-3092
Vocational rehabilitation
Loss of consortium (the services of an injured spouse)
Impairment of earning capacity
We believe that it is imperative that you consult with an experienced San Diego Bus Injury attorney who can help you during this difficult time. If you or your loved one has been involved in a San Diego County Bus Injury, do not hesitate to contact one of our experienced and caring San Diego Bus Injury Lawyers. You may be entitled to monetary compensation, including medical costs, property loss, lost wages, as well as pain and suffering.
Experienced bus accident lawyers can help you determine the types of damages to which you may be entitled. The extent of those damages will depend on the circumstances of the accident. In instances where multiple parties bear responsibility for the bus crash, monetary damages will need to be apportioned.
Finding an attorney who will locate all potential responsible parties is crucial. Some of those your lawyer may identify as parties responsible for your injuries include:
Bus Maintenance Companies
State or Local Governments
If you have been the victim of a burn injury due to someone else's negligence or carelessness, you will need an experienced personal injury attorney to protect your rights.
Government entities may also be responsible for dangerous road conditions. Their responsibility depends on the extent to which the law allows recovery from such government entities, and the degree of government responsibility in creating or failing to fix the dangerous road condition that contributed to the bus crash.
Some of the contributors:
School Districts and School Boards
Drivers of Other Vehicles and their employers
Affiliated Cruise Lines and Tour Operators
Manufacturers of the Bus and/or its Parts
If you or a loved one has been injured by a Bus as a result of another person's fault, call us today for a free consultation. We accept Bus Injury cases on a contingency fee basis. This means that there will be no cost to you, unless we recover. Our accident attorneys will aggressively fight for you until justice is served, whether it is through a settlement or a trial. Let us help you and your loved ones get through this difficult time. Our dedicated and caring team of San Diego Bus Injury Attorneys will be available to you 24/7.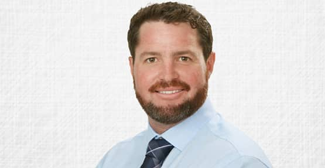 Evaluating a Bus Injury case can be difficult and you should never pursue a claim without legal representation. We are well-versed in the laws that govern boating accident claims, and we will use our extensive knowledge and resources to help you fight for the highest possible compensation.
Free Consultation
With Richard Morse

★★★★★
Five Star Review with Google
Map Location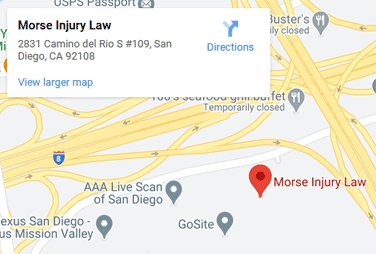 Morse Injury Law
      2831 Camino del Rio S. #109
      San Diego, CA. 82108
      Phone: +1 (619) 684-3092