Claim Winning
Product Liability Attorney
PRODUCT LIABILITY ATTORNEY: is an experienced personal injury lawyer. Unsafe product and defective products injure people daily. Our Attorneys ensure that your claim is handled with skill and win you the compensation you deserve. Call now and hire an attorney today!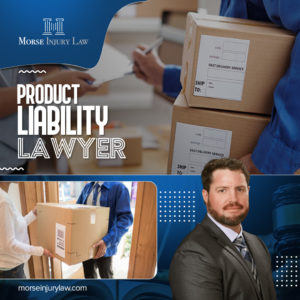 In this country, we are accustomed to enjoying some of the best products in the world. Thanks to the many innovative people and businesses, consumer advocacy groups and other companies within the government who are devoted to protecting the consumer, we have come to trust the products we use every day.
However, the fact remains that we are exposed to unsafe products on a regular basis. Sometimes manufacturer defects go undetected until they cause serious injuries, or even wrongful death. Other times an injury may be caused by an undiscovered design flaw. Because of this, many states have enacted comprehensive products liability statutes to protect the people from defective products that cause damage or injury to the consumer. There is a long list of businesses along the chain of supply that may be held responsible for damage caused by that product.
Common Product Liability Cases:

Do I have a case?
Find out, it's free
Free Consultation
With Richard Morse

★★★★★
Five Star Review with Google
Map Location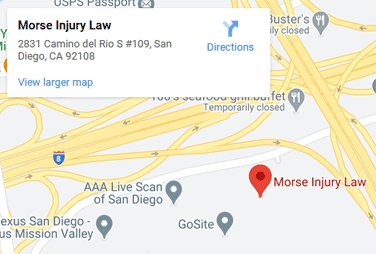 Morse Injury Law
2831 Camino del Rio S. #109
San Diego, CA. 82108
Phone: +1 (619) 684-3092
Car Defects
Faulty airbags, tires, seat belts, etc.
Forklifts
Collisions, Backing into people/objects, objects falling from forklifts causing injury or wrongful death.
Scaffolding
Electrical hazards, falling objects, unmaintained work surfaces.
Industrial Equipment
Improper safety gear, defective shut-off switches, lack of warning signs on machinery.
Medical Devices
Defectively manufactured or marketed defibrillators, stents, implants, other medical devices.
Cranes
Malfunctioning parts, missing components, broken safety latches, motion alarms not installed.
Pharmaceutical Drugs
Undisclosed side effects, improperly labeled prescription drugs, defective manufactured drugs, etc.
Manufacturers have a responsibility to keep you safe when using their products. They need to warn you of any hazards that could harm you when using their products, and they need to make sure these products are free of any defects. Under the law in California, you have a right to file a lawsuit against a company for a product that causes you injury.
Accidents can be devastating, and the pain becomes unbearable when it is caused by the fault of someone else. Faulty manufacturing of various products could cause grievous injuries or in the worst cases, might even lead to death. Are you living in such pain?
The potential for damages in product liability cases is great. However, large businesses will vigorously defend their interests in court and it can be difficult to obtain a successful recovery without representation. To ensure that your rights are protected and your interests served, we highly recommend that you seek legal counsel from an experienced, knowledgeable product liability attorney.
Product Liabily Lawsuits involving product recalls:
Dangerous drugs, Heparin, Bextra, Vioxx, Phen Phen etc.
Defective or dangerous medical devices, such as Guidant defibrillators and Guidant pacemakers
Automobile recalls, aka. Takata airbag recall
Occasionally, consumers suffer problems from dangerous products that the manufacturers refute as being dangerous. Our product liability attorneys have extensive experience representing individuals injured in product liability cases, in both jury trials and settlement negotiations. Product liability lawsuits require extensive resources and the expertise knowledge of qualified product liability lawyers.
A damage award should cover your current and future financial losses, including:
Past and Future Wages Lost
Loss of Enjoyment of Life
Our attorneys have extensive experience handling these insurance dispute cases and are well-equipped to handle the tactics used by insurance companies to avoid honoring valid claims. We accept Pedestrian Accident cases on a contingency fee basis. This means that there will be no cost to you, unless we recover. Our pedestrian injury attorneys will aggressively fight for you until justice is served, whether it is through a settlement or a trial. Let us help you and your loved ones get through this difficult time. Our dedicated and caring team of San Diego Pedestrian Accident Attorneys will be available to you 24/7.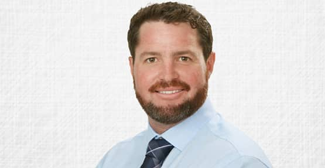 Evaluating a product liability claim can be difficult and you should never pursue a claim without legal representation. Once you seek medical attention, the next step is to contact an excellent product liability lawyer like Richard Morse. He can evaluate your case and provide you with the legal representation you need to pursue a claim.
Free Consultation
With Richard Morse

★★★★★
Five Star Review with Google
Map Location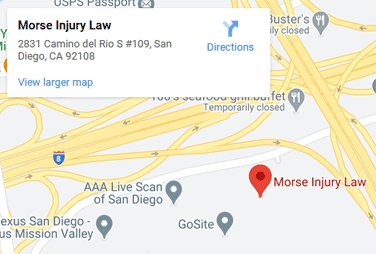 Morse Injury Law
      2831 Camino del Rio S. #109
      San Diego, CA. 82108
      Phone: +1 (619) 684-3092