Claim Winning
Medical Malpractice Attorney
MEDICAL MALPRACTICE ATTORNEY: Medical Malpractice Attorney is an injury attorney that works in the medical field. Looking to hire an attorney experienced in personal injury? Then contact Morse Injury Law and hire the most experienced injury attorney in the San Diego area. A personal injury attorney handles your personal injury claim. Contact an experienced medical malpractice attorney today. You need an attorney; Medical Malpractice is serious seek settlement today!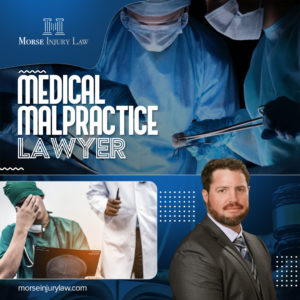 The health care provider bears no burden of proof in a medical malpractice claim. Because medical malpractice cases are so expensive, the decision to pursue one must be made very carefully. It is difficult – and therefore expensive – to demonstrate to a jury that a health care provider acted unreasonably.
Medical malpractice occurs when a patient is harmed by a doctor (or other medical professional) who fails to competently perform his or her medical duties. State rules about medical malpractice vary from when you must bring your lawsuit to whether you must notify the doctor ahead of time.
How do you prove medical malpractice:

Do I have a case?
Find out, it's free
Free Consultation
With Richard Morse

★★★★★
Five Star Review with Google
Map Location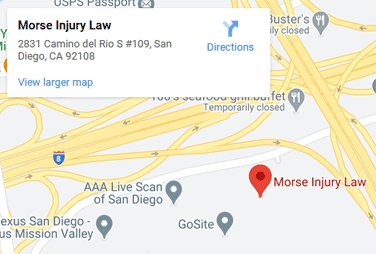 Morse Injury Law
2831 Camino del Rio S. #109
San Diego, CA. 82108
Phone: +1 (619) 684-3092
A doctor-patient relationship existed
The injury led to specific damages
Failure to warn a patient of known risks
The doctor's negligence caused the injury
Many states have special rules and procedures for medical malpractice claims. It is important to know about these rules and follow them carefully.
Our goal is to help you get through this difficult time so you can focus on healing and recovering from your injuries. We will assist you with your medical concerns and other financial issues. We will also make sure to be in touch with your loved ones to help them get through this difficult time. Our goal is to be here for you, gain your trust, and fight for you until justice is served.
Special Requirements in Medical Malpractice Cases:
Medical malpractice cases must be brought soon after the injury
Special medical malpractice review panels
Special notice requirements
Expert testimony is required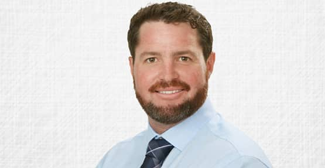 Evaluating a medical malpractice claim can be difficult and you should never pursue a claim without legal representation. Once you seek medical attention, the next step is to contact an excellent Medical Malpractice injury lawyer like Richard Morse. He can evaluate your case and provide you with the legal representation you need to pursue a claim.
Medical malpractice law is highly regulated by a complex body of rules, which vary considerably from state to state, so it's often essential to get advice or representation from a lawyer. Healthcare professionals have a legal and professional obligation to abide by an industry-standard of care. If a healthcare professional fails to live up to this standard – through medical error, misdiagnosis, or omission of treatment – and the victim suffers injury or death as a result, it's possible to hold the negligent party or parties accountable through legal action. Individuals who are injured may be able to recover damages for a variety of factors, including loss of wages, medical expenses, and pain and suffering.
Our attorneys have extensive experience handling these insurance dispute cases and are well-equipped to handle the tactics used by insurance companies to avoid honoring valid life and disability insurance claims. We accept Medical Malpractice cases on a contingency fee basis. This means that there will be no cost to you, unless we recover. Our accident attorneys will aggressively fight for you until justice is served, whether it is through a settlement or a trial. Let us help you and your loved ones get through this difficult time. Our dedicated and caring team of San Diego Medical Malpractice Attorneys will be available to you 24/7.
Free Consultation
With Richard Morse

★★★★★
Five Star Review with Google
Map Location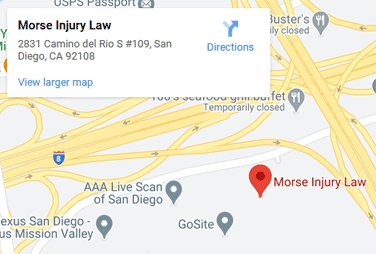 Morse Injury Law
      2831 Camino del Rio S. #109
      San Diego, CA. 82108
      Phone: +1 (619) 684-3092