Claim Winning
Motorcycle Accident Attorney
MOTORCYCLE ACCIDENT ATTORNEY: When in an accident on your motorcycle you need a personal injury attorney. Therefore, you need experienced motorcycle accident attorney. Morse Injury Law are top notch attorneys and motorcycle accident attorneys understand what it takes to win. Call Now!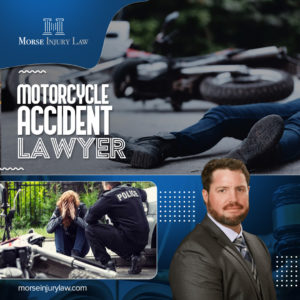 As a rider, you know there's nothing more freeing than the sensation of two wheels on the open road. Unfortunately, other drivers are often distracted or simply not paying attention when driving near motorcycles—and that can lead to serious accidents and injuries.
We know you're facing expensive medical bills and a long period of recovery where you can't work, and that's why we want to help you get compensation.
No matter how safe riders are on their motorcycles, there are still many factors that can lead to accidents, such as:

Do I have a case?
Find out, it's free
Free Consultation
With Richard Morse

★★★★★
Five Star Review with Google
Map Location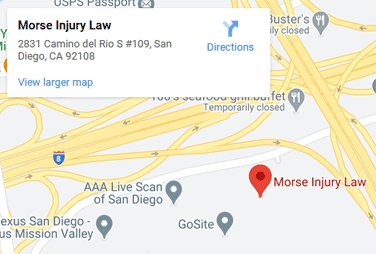 Morse Injury Law
2831 Camino del Rio S. #109
San Diego, CA. 82108
Phone: +1 (619) 684-3092
The doctor's negligence caused the injury
Many states have special rules and procedures for medical malpractice claims. It is important to know about these rules and follow them carefully.
Our goal is to help you get through this difficult time so you can focus on healing and recovering from your injuries. We will assist you with your medical concerns and other financial issues. We will also make sure to be in touch with your loved ones to help them get through this difficult time. Our goal is to be here for you, gain your trust, and fight for you until justice is served.
Seeking legal counsel and guidance is the only guaranteed method of determining if you have a personal injury case.
However, here are some of the criteria needed to establish a valid lawsuit:
Prove you have suffered actual injury/harm
Prove the other party is at fault
Prove your injury was the result of the accident
Getting fair treatment and compensation after a motorcycle accident is anything but simple. The insurance has intentionally made this process difficult with one clear priority – to pay you as little as possible.
You need someone in your corner with a proven track record going up against insurance companies. You and your family deserve nothing short of real justice.
Your settlement can cover damages including but not limited to:
Past and Future Wages Lost
Loss of Enjoyment of Life
Our attorneys have extensive experience handling these insurance dispute cases and are well-equipped to handle the tactics used by insurance companies to avoid honoring valid claims. We accept Motorcycle Accident cases on a contingency fee basis. This means that there will be no cost to you, unless we recover. Our accident attorneys will aggressively fight for you until justice is served, whether it is through a settlement or a trial. Let us help you and your loved ones get through this difficult time. Our dedicated and caring team of San Diego Motorcycle Accident Attorneys will be available to you 24/7.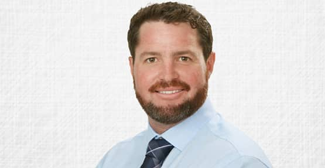 Evaluating a motorcycle accident claim can be difficult and you should never pursue a claim without legal representation. Once you seek medical attention, the next step is to contact an excellent Motorcycle Accident injury lawyer like Richard Morse. He can evaluate your case and provide you with the legal representation you need to pursue a claim.
Free Consultation
With Richard Morse

★★★★★
Five Star Review with Google
Map Location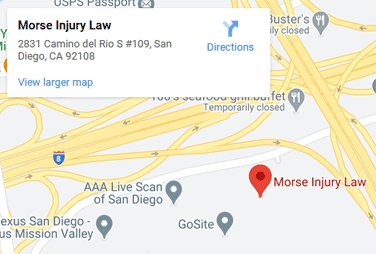 Morse Injury Law
      2831 Camino del Rio S. #109
      San Diego, CA. 82108
      Phone: +1 (619) 684-3092