Claim Winning
Sexual Assault Attorney
SEXUAL ASSAULT ATTORNEY: are personal injury Lawyers. Contact a qualified personal injury attorney to handle your sexual assault claim. To win you need an attorney who is a seasoned trial lawyer. Our attorneys here at Morse Injury Law are here to win your claim. Call Now!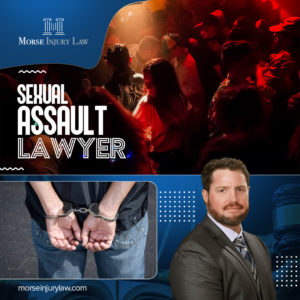 Sexual assault and abuse are particularly heinous offenses that leave victims feeling traumatized and helpless. Victims of sexual assault and sexual abuse are not only severely impacted in the short term, but commonly suffer psychological and emotional effects for years after the fact.
We have a comprehensive understanding of the laws that govern Sexual Assault claims in San Diego California. Our attorneys will help you avoid critical mistakes that would jeopardize your case, and we will not settle for anything less than what you need to recover from your injuries. Sexual assault is a broad term. As such, the state of California does not have only one sexual assault designation: it can include rape, threats, sodomy, seduction, and much, much more. In the most general of terms, sexual assault is any act of unwanted sexual contact without a person's consent, including any threats or coercion.
Rape is defined as an act of sexual intercourse – with a spouse, intimate partner, acquaintance, or stranger – without consent:

Do I have a case?
Find out, it's free
Free Consultation
With Richard Morse

★★★★★
Five Star Review with Google
Map Location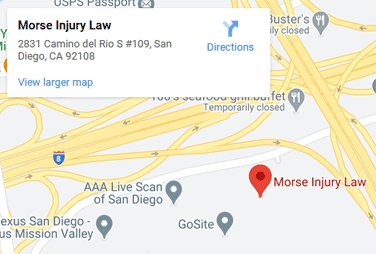 Morse Injury Law
2831 Camino del Rio S. #109
San Diego, CA. 82108
Phone: +1 (619) 684-3092
Because you were threatened
Because you were physically unable to grant consent, from being asleep, unconscious, unaware, or disabled
Because you were forced against your will
Because you were under the age of 18, and the perpetrator was aged 18 or older
Because you were mentally unable to give consent due to a disability
Because you were under the age of 17
First, sexual assault means any nonconsensual act that is defined by federal, state, or tribal law, even if the victim cannot consent to the sexual activity. Rape and sexual assault are rarely crimes of passion. They are about gaining control over the victim. The most important thing you should know is that it is never the victim's fault that they were sexually assaulted or raped.
Our sexual assault lawyers understand that keeping your case as confidential as possible is necessary. While you might have to go to trial to testify against your abuser, you are helping save others from being sexually assaulted by the same person – because they are likely to do it again.
There are two different justice systems in this country: criminal and civil. In the criminal justice system, the prosecutor decides whether or not to charge a person (the defendant) with a sex crime. If the defendant is found guilty, he or she may be incarcerated and fined. The civil justice system is what allows survivors to bring claims for monetary damages against the defendant. While a guilty plea or verdict can bolster your claim, it is not necessary in order for you to file a claim.
In fact, even if your attacker is found not guilty in criminal court, he or she may still be held liable for your injuries, and ordered to compensate you for:
Loss of enjoyment of life
Your loss of companionship with your partner
No matter the circumstances, our lawyers for sexual assault victims have the experience and expertise to get the resolution you need to start putting your life back together. In addition, we leverage our unique relationships with the nation's leading non-profit advocacy groups in order to increase your ability to obtain justice and force changes to the system. Our dedicated and caring team of San Diego Sexual Assault Attorneys will be available to you 24/7.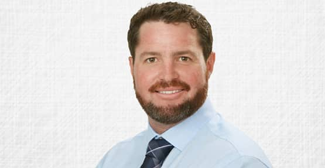 Evaluating a Sexual Assault case can be difficult and you should never pursue a claim without legal representation. Once you seek medical attention, the next step is to contact an excellent Sexual Assault injury lawyer like Richard Morse. He can evaluate your case and provide you with the legal representation you need to pursue a claim.
Free Consultation
With Richard Morse

★★★★★
Five Star Review with Google
Map Location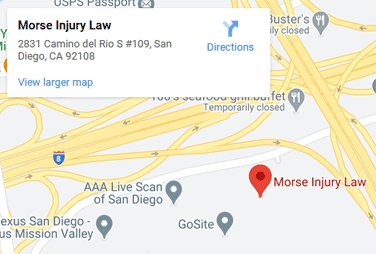 Morse Injury Law
      2831 Camino del Rio S. #109
      San Diego, CA. 82108
      Phone: +1 (619) 684-3092