Claim Winning
Bad Faith Insurance Attorney
INSURANCE BAD FAITH ATTORNEY: An insurance company has violated the implied covenant of good faith and fair dealing if it did not act fairly and honestly toward its policyholder in response to a claim.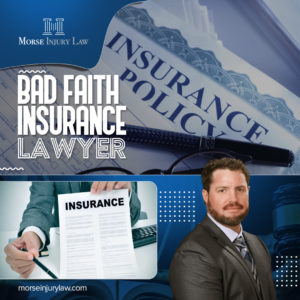 We are your San Diego Insurance Bad Faith Lawyers; we understand that an Insurance agency poses a challenge. Your insurance dispute attorney, while pursuing your claim, will determine whether a viable claim for bad faith exists.
In other cases, bad faith claims are handled by our personal injury attorneys, not the attorneys in our insurance dispute department. It is important to contact our office to determine which type of claim best fits your situation.
Below are instances in which you might consider filing a bad faith claim:

Do I have a case?
Find out, it's free
Free Consultation
With Richard Morse

★★★★★
Five Star Review with Google
Map Location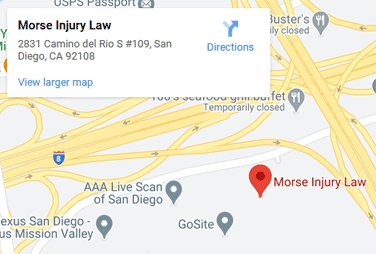 Morse Injury Law
2831 Camino del Rio S. #109
San Diego, CA. 82108
Phone: +1 (619) 684-3092
Employee Retirement Income Security Act (ERISA) Claims
Personal Injury Protection
We believe that it is imperative that you consult with an experienced San Diego Insurance Bad Faith attorney who can help you during this difficult time. You may be entitled to monetary compensation, including medical costs, property loss, lost wages, as well as pain and suffering.
Our goal is to help you get through this difficult time so you can focus on healing and recovering from your injuries. We will assist you with your medical concerns and other financial issues. We will also make sure to be in touch with your loved ones to help them get through this difficult time. Our goal is to be here for you, gain your trust, and fight for you until justice is served.
If you submitted a claim to your auto insurance company and were denied payment,
or offered a settlement that is unreasonably low, please fill out our case review form today:
Property Damage Liability
Medical Payments/Personal Injury Protection
Uninsured Motorist Coverage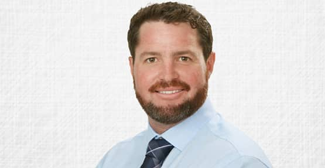 Evaluating a Bad Faith Insurance case can be difficult and you should never pursue a claim without legal representation. Once you seek medical attention, the next step is to contact an excellent Insurance Bad Faith injury lawyer like Richard Morse. He can evaluate your case and provide you with the legal representation you need to pursue a claim.
Many people purchase life insurance policies as a way to protect their families in the event that they die unexpectedly, either as a result of unforeseen natural causes, or as the result of an accident. Insurance companies, who are motivated by profit sometimes choose profits over people, and elect to interpret and manipulate the language in their policies to minimize or deny valid claims life and accident insurance claims.
Our attorneys have extensive experience handling these insurance dispute cases and are well-equipped to handle the tactics used by insurance companies to avoid honoring valid life and disability insurance claims. We accept Insurance Bad Faith cases on a contingency fee basis. This means that there will be no cost to you, unless we recover. Our accident attorneys will aggressively fight for you until justice is served, whether it is through a settlement or a trial. Let us help you and your loved ones get through this difficult time. Our dedicated and caring team of San Diego Insurance Bad Faith Attorneys will be available to you 24/7.
Free Consultation
With Richard Morse

★★★★★
Five Star Review with Google
Map Location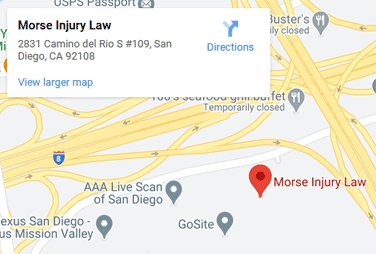 Morse Injury Law
      2831 Camino del Rio S. #109
      San Diego, CA. 82108
      Phone: +1 (619) 684-3092