Claim Winning
Slip and Fall Injury Attorney
SLIP AND FALL ATTORNEY: we are decidedly focused on slip and fall injuries and accidents. Looking to hire an attorney experienced in personal injury? Then contact Morse Injury Law and hire the most experienced injury attorney in the San Diego area. Get compensation with your experienced attorney. For a slip-and-fall injury, your attorney must show certain breech of duties. Injuries include a premises liability attorney. Call San Diego Injury Law now.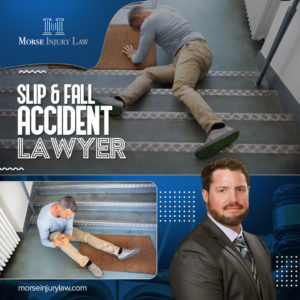 You are deep in thought when, without warning, your feet slip out from under you with a whoosh of air, and you land hard on an unforgiving surface. These types of slips and falls are the leading cause of emergency room visits in the United States.
After suffering injuries due to a slip and fall accident, you should immediately get checked out at an emergency room or your doctor's office. If your injuries are severe, this would naturally be your first thought, but if you feel okay, you might neglect this critical step. Resist the urge to shrug off your accident, and seek medical help. You may have injuries that are not readily apparent, especially if you bumped your head or twisted as you fell, or you could be dealing with anything from a mild concussion to a spinal injury.
If you are on your way to the hospital, ask a friend or your attorney to take care of this step.
The documentation should include:

Do I have a case?
Find out, it's free
Free Consultation
With Richard Morse

★★★★★
Five Star Review with Google
Map Location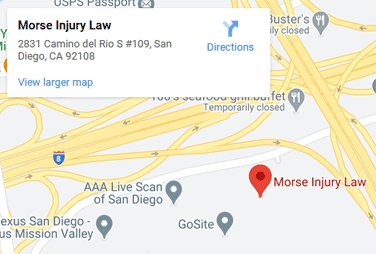 Morse Injury Law
2831 Camino del Rio S. #109
San Diego, CA. 82108
Phone: +1 (619) 684-3092
A detailed account of the incident, including location specifics and any mitigating factors such as stormy weather or a power outage
The names and contact information from witnesses to the accident and accounts of what they saw
California has special rules and procedures for injury claims. It is important to know about these rules and follow them carefully. Work with a skilled and talented injury attorney now.
When you slip and fall or get hurt on another person's property, it can be unclear who is responsible for the injuries you've suffered and who should pay the medical expenses you've incurred. According to the National Safety Council, slip and fall accidents are the single largest cause of emergency room visits. When it comes to slip & fall accidents, we must prove the owner of the property was negligent.
In order to build a strong case, we must show that the following occurred:
The condition of the property was dangerous
The owner knew, or should have known, about the property's condition
The owner had a reasonable amount of time to fix the condition of the property
Our California slip and fall lawyers know that proving negligence can be difficult for slip and fall accidents, but we also know that we have the knowledge and resources to help. With a our dedicated and experienced staff, we have what it takes to get you the compensation you deserve.
You need someone in your corner with a proven track record going up against insurance companies. You and your family deserve nothing short of real justice. The evidence needed to prove liability will depend on the specific cause of your accident. Depending on the facts of your case, you may have grounds for a claim against the driver who hit you, the company that employs the driver who hit you, a government entity, or another party.
We will gather evidence of liability before it becomes unavailable, which might include:
Surveillance footage of your fall;
Records of slips and falls on the same property;
Photos of the dangerous condition that caused your fall;
Testimony from expert witnesses;
Record the phone numbers and names of eyewitnesses
The incident and police reports.
The injuries sustained in slip and fall accidents can be catastrophic, and the cost of medical care and lost income can be exorbitant. To reduce their liability, the insurance company or defendant may try to coerce you into providing a recorded statement that can be used to dispute liability or your damages. They might review your social media profiles for posts that can be used against you. Also, important evidence that could be used to prove your claim, such as surveillance footage, might be erased. The answer to this question depends on the specific facts of your case. Once hired, our attorneys will evaluate your medical records, invoices from accident-related expenses, and other evidence you have gathered to determine the types of damages you may be able to recover.
A damage award should cover your current and future financial losses, including:
Past and Future Wages Lost
Loss of Enjoyment of Life
Our attorneys have extensive experience handling these insurance dispute cases and are well-equipped to handle the tactics used by insurance companies to avoid honoring valid claims. We accept Slip and Fall cases on a contingency fee basis. This means that there will be no cost to you, unless we recover. Our slip and fall injury attorneys will aggressively fight for you until justice is served, whether it is through a settlement or a trial. Let us help you and your loved ones get through this difficult time. Our dedicated and caring team of San Diego Slip and Fall Accident Attorneys will be available to you 24/7.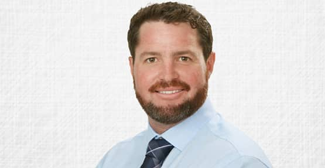 Evaluating a slip and fall accident claim can be difficult and you should never pursue a claim without legal representation. Once you seek medical attention, the next step is to contact an excellent Slip & Fall Accident lawyer like Richard Morse. He can evaluate your case and provide you with the legal representation you need to pursue a claim.
Free Consultation
With Richard Morse

★★★★★
Five Star Review with Google
Map Location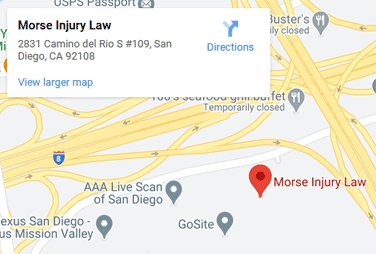 Morse Injury Law
      2831 Camino del Rio S. #109
      San Diego, CA. 82108
      Phone: +1 (619) 684-3092